xlaceandbows
she likes, she likes to be my bittersweet love.

So, I went to town tonight, and it was quite an ordeal. When we were in a Applebee's To-Go parking space, my mom's car's battery died, and that was an hour waiting for my clueless dad to get it working again...
But on the upside, I finally got around to going to Sally's Beauty Supply, and add to my ever-growing lacquer collection. :D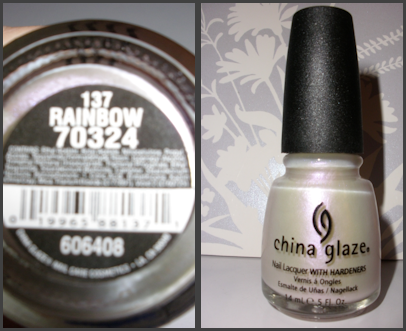 137 -
Rainbow
.
A beautiful and simple opalescent white.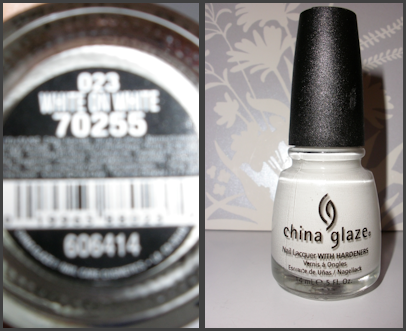 023 - White On White.
Basic white. Out of all of my lacquers, I had no basic white. haha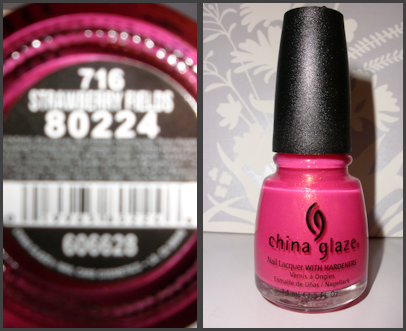 716 - Strawberry Fields.
Now one of my absolute favorites. It's a delicious hot pink with gold flecks.
Unfortunately, the gold is barely seen in this photo. :(
080 - Tempest.
An awesome bluish purple with a violet sheen.
While I went to Sally's expressly to get my hands on China Glaze's
Kicks
collection
(which they didn't have ;~;),
I
did
manage to snag three colors from their new
Holiday 2009 collection
China Glaze Loves You Snow Much
:
28843 - Emerald Sparkle.
It's hard to see the true color, but it is simply
gorgeous
in person-
and while I'm not totally fond of most glitter polishes, this collection is exempt.
It's not chunky glitter like you see so often, but micro glitter.
Yay for not looking like a cheap kiddie polish! :D
28842 - Tinsel.
Simple technicolor silver micro-glitter in a clear base.
Simple yet pretty!
28871 - 5 Golden Rings.
A lacquer with awesome gold monochrome micro-glitter.

While I was browsing, I found a small advertisement for China Glaze's Matte Magic Top Coat. Well, at first I looked and looked; couldn't find it. So I told a worker there, and he couldn't find it either. So I sighed and whatever'd it and went to check out, but as I was waiting for the guy to come back from the storage room, I was browsing, and LOW-AND-BEHOLD, what do I find on the bottom shelf of the middle-of-the-isle display?? A container of Matte Magic!!!!! Happy Andi indeed. Needless to say, I think it was meant to be. ^_~

Well, I need to go shower so I can watch Sense & Sensibility. Night-nights. <3